The Moscow Open, RSSU International Chess Cup is a unique festival where a great game of chess unites people of different ages, professions, male and female, children of preschool age and veterans, professionals and amateurs, grandmasters and beginners. We were talking to the youngest and the oldest participants of the tournament. The age difference between them is 83 years.
The youngest one: Makar Domrachev (Moscow)
- Hello Makar. How old are you?
- Hello! I'm five years and three months.
- How long have you been playing chess?
- Very long, I even don't remember…
- He's been playing since the time when he was four! – A standing next to us girl of around 8 is saying.
- This is my elder sister Glasha. And we have come here with our eldest brother Timofey. They are playing in the tournaments of other age categories.
- Did they teach you how to play chess?
- My uncle, my grandmas and grandpas are playing with me. My sister and brother can't play with me all the time, they have to go to school and are short of time… And my grandpa says that he is playing bad but he always beats me. Maybe, he is joking (sighing).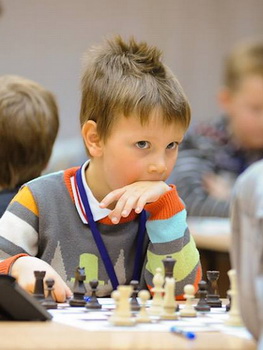 - Why have you decided to start playing chess?
- That's' because chess is my favorite kind of sport! I love chess.

- And what are you doing besides playing chess?
- Football, swimming, music. Glasha and I are playing the piano. Tima used to play to but now he is not playing any more. And I was advanced to the second group in the chess as I was beating almost everybody in my previous group.
- What chess school do you visit?
- The school of Alexandra Kostenyuk. Jenya and Natalia Pavlovna are my teachers. Jenya is giving lessons, and Natalia Pavlovna is checking our copy-books and suggests us different problems.
- Do you know who Alexandra Kostenyuk is?
- She is a great chess player! World chess champion among women.
- What other chess players do you know?
- I know Steinitz, he always won. I know Alesha…
- Alekhin?
- Oh yes, yes, Alekhin!
- How many times have you been playing in the tournament? Do you like it at the Moscow Open?
- I am thinking it's my fifth time. Once I took the first place. I have a medal. I remember there was a three-year old boy who was winning over all five-year old ones. I won over him and showed the real level of five-year olds. Now the boys are older than me but I'm not afraid. It's very interesting and I like it.
- What's your dream?
- To become a chess player when I grow up! Maybe a tennis player. I am really dreaming to get the first category and to become a champion.
The oldest participant: Dulma Vanchikova (Moscow)
- Dulma, what chess means to you?
- Now it's almost all my life!
- How long have you been playing?
- Since the time when I was 30. That makes 58 years already. I was working then, and I didn't have so much time. And now I'm just enjoying the game.
- What was your profession?
- I was working as a Russian language and literature teacher.
- Who was your teacher?
- Nobody taught me. I was watching people play, understood the pieces meanings, the way they move and just started to play. Male teachers in our school kept on saying: "Dulma, instead of playing with you, it's better to read an old newspaper." And then it just started to develop. I was invited to the district competitions, and won the first place there. Then I became a champion of the region of Buryatia where I was living. The champion among country chess players. And I became an absolute champion of Buryatia in the year of 1990. You can count how old I was at that time (laughing).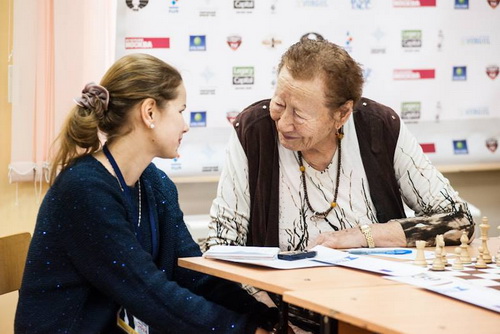 - You have so interesting awards! What else can you boast of?
- My biggest success was in 1964. I became a Champion of Siberia and the Far East. Bykova, the World Champion was also playing there. I managed to win over her. After that I was playing in the All-Russian competitions and I fulfilled the first category standards there. Here in Moscow I also managed to beat one grandmaster, maybe it happened by chance. You should know her, Belavenec is her name. I didn't know how she looks like, and suddenly beat her… And she said that she wouldn't play anymore at that day. That's all of my success (laughing).
- Are you having trainings now?
- Nooo. I'm thinking in the process of the game. And I'm always playing up to the mate. Whose mate it should be – that's the question of luck.
- How many times have you been playing in the Moscow Open?
- I'm playing for the fifth or sixth consecutive time. In summertime I'm usually playing in the Senior Championship of Russia that is organized in the holiday center for the metropolitan employees. I'm playing chess and having rest at the same time. The air is so pure there. I enjoy breathing, walking.
- What other kinds of sport have you been playing?
- When I was young, I was a fan of all of them. Especially I liked the track and field. I used to run the distance of 100 m for 11 seconds. When I'm telling this to somebody usually I'm hearing: "Dulma, stop talking nonsense." And what's the sense to lie? I didn't fix the result by myself, the instructor with a stopwatch made it clear…
- Dulma, how do you feel at the Moscow Open this year?
- It would be great if there were a group for those older than 70 to determine the prize winners. The age group limit starts from 60, that's a young age… And it's very hard to play against men. Men are always stronger. They know the chess from inside out. There is nothing to do at home, so they are sitting and playing chess. And ladies are always engaged with needlework, cooking, cleaning. That's the reason why I never analyze the games at home, though I feel I need to (Dulma is bursting into laughing again, and the arbiter announces the start of the games at this very moment).
Material by Anna Kalyaeva
Photo by Galina Popova